MaskMinder
face mask lanyard
THE 2020 ACCESSORY YOU
NEVER KNEW YOU NEEDED!
MASKMINDER FACE MASK LANYARD
Keep masks handy. Avoid contaminated surfaces.
Lessening the risk of losing or placing your mask on a dirty surface.
Great for Students, Teachers, Medical Staff and More
Easy to put their mask on or take off without misplacing it while at school, a doctor's office or any public location.
Keeps Your Face Mask Clean and Close when Not in Use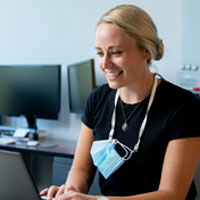 Hands-free and convenient.
Always have your face mask handy and available to use.
Avoid having to reach or dig into your pocket or bag.
Don't lose, misplace, or forget your facemask.
Great for when you take a break during work, or eating or drinking.
Keeps you from accidentally setting your facemask down on an unsanitary surface.
Perfect for children to use in school from accidentally using other's mask!
You can tie knot behind your neck for the perfect length. One size fits all!. (A-52C only)
Easily unclip and attach your clean masks.