Networking and Educational 1/2 Day Event
We had the honor of attending the PCMA Spark Event for the PCMA Canada West Chapter, as an annual sponsor in mid-October. It was a jam-packed, 1/2 day educational and networking event and you can bet it was worth it for all involved.  Once again, it was nice to put some faces to names, which is probably our favorite part of getting out events all over. The Vancouver Convention Centre was the  host of the event, and just in time as in October, they received their double LEED certification – this makes them the first double LEED-certified convention centre, in the world! This all thanks to their six-acre living roof, marine habitat built into the foundation of the West building, the scratch kitchen which focuses on using fresh, local, and seasonal ingredients, amongst a variety of other accomplishments and building-wide features. Even though it was pouring, and you could barely see the water, let alone the mountains, it was still wonderfully bright, helping to bring the outdoors in, minus the rain.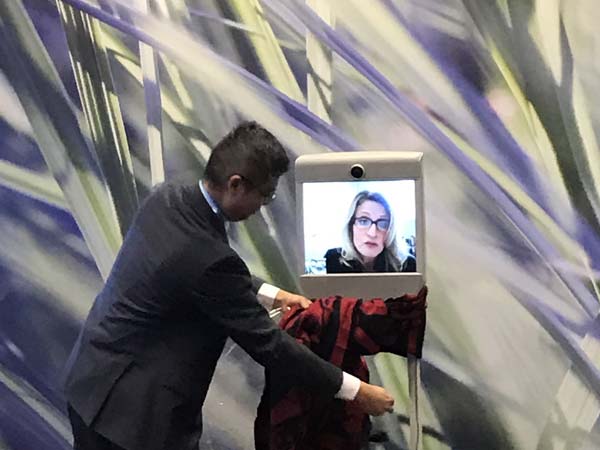 Robot Rachel Riggs getting wrapped up in her thank you gift. Even robots need the comforts of a scarf 🙂
Spark Talk Round 1 – Event Design or Organization Legacy?
Oh, the difficulty in choosing a session to attend right off the bat! The first option was by Tahira Endean and covered "Intentional Event Design our Professional Opportunity". Tahira wanted to focus on "people-centric design" to design optimal guest experiences. She was tying this in with her 7 key intentions from her newly released book.
But then, there was Robot Rachel Riggs talking about how to implement a proper CSR (Corporate Social Responsibility) strategy into your business. We all want to do good and feel good, but CSR seems to take a back seat when we get too busy, or short on time.
I opted to go the CSR route and very thankful I had the opportunity to do so. We are all looking for ways to do good, and feel good, and get others involved. Rachel went over some of the idea's she and her team have implemented and how quickly they've grown so we can see how little changes, can grow into much bigger changes and impact. Anyone anywhere can do it and it no doubt will add to your bottom line, along wiht creating effective engagement.
Spark Talk Round 2 – Industry Involvement or Event Apps in 2018?
After a quick networking break, it was time to yet again decide between two awesome sounding sessions. Up first was "Have You Heard? Events Apps in 2018?" which was a panel discussion led by Jason Philpchuk, Vlad Polikhun, Joanne Rockwood, and Shannon DeSouza. The discussion was focused on changes implemented by Apple and how they do, or do not, affect you moving forward. By making this an open discussion panel, it was less lecture-based, more interactive, meaning you could see what challenges others had noticed, bringing a new layer to the discussion.
The second option was "The Power of Industry Involvement" with Roger Haskett. Roger wanted to focus on how to make networking less of a social pain, and how to give you strategies for networking moving forward. He wants to show you how to be the "worst kept secret" – his words, not mine!
I opted to attend Roger's session and boy was I not disappointed. This was not a full lecture style – it was interactive in that we had to choose people we had never met and do small networking sessions with them, all based off of "Roger's Rules". Things such as having fun, no small talk, helping others and smiling. And yes, everyone was right – if you've never seen Roger speak, you're missing out! Oh, and we all got to sing, and try and make everyone else that wasn't attending, jealous that they weren't singing with us – who says you can't have fun at networking events?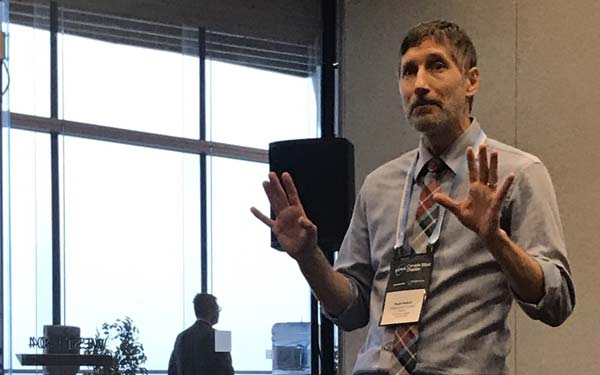 Roger Haskett explaining how he became the "worst kept secret" and giving us some good tips!
It is always amazing to get out and meet some new individuals, and finally, meet "face to face" with clients we already have the pleasure of working with. We definitely won't miss the next event, which just so happens to be the holiday party in December and they're teaming up with two other associations and we cannot wait. Perhaps we'll throw Kane into the networking waters next month.
Thanks, PCMA Canada West for an educational 1/2 day, and keeping us so occupied that we didn't notice the downpour of rain. Great venue, wonderful people, amazing food, and interactive speakers – until next time!