MyBadges Magazine
Welcome to the blog for MyBadges.com! We're happy to have you stop by and check out the latest of what's happening in our world, on the other side of the eventprof world! We want to share what's happening in our world, how we can make your life more efficient, and so much more. Make sure you're also following us on social media and our mailing list as well. Thanks for stopping by!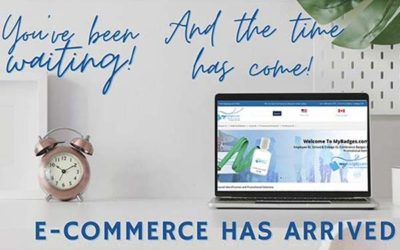 Facebook Instagram Twitter Pinterest Finally! As much as we *cough the boss cough cough* loved our old website, we knew that it was something that needed to be changed…
Ashley has worked at MyBadges since early 2014 and handles both sales and marketing for MyBadges. When she's not working, she spends her spare time running/hiking, traveling, chasing after her nieces and dog and enjoying a refreshing Aperol Spritz in the summer and a nice full bodied red wine is a winter must have.
Nickname: The Kid
Favorite Place: Beaune, FR / Amsterdam, ND
Favorite Quote: "Success is often achieved by those who don't know that failure is inevitable" — Coco Chanel
Sean is the big boss. We had to nickname him this because his son is referred to as the little boss, even though he's a ways away from that corner office. Sean started this company in 1988 as a side hobby with no one except himself running the show.
Favorite Place: Cape Town
Favorite Quote: It's not good enough that we do our best. Sometimes we have to do what is required" — Winston Churchill
#mc_embed_signup{background:#fff; clear:left; font:14px Helvetica,Arial,sans-serif; } /* Add your own MailChimp form style overrides in your site stylesheet or in this style block. We recommend moving this block and the preceding CSS link to the HEAD of your HTML file. */ #mc-embedded-subscribe-form input[type=checkbox]{display: inline; width: auto;margin-right: 10px;} #mergeRow-gdpr {margin-top: 20px;} #mergeRow-gdpr fieldset label {font-weight: normal;} #mc-embedded-subscribe-form .mc_fieldset{border:none;min-height: 0px;padding-bottom:0px;} Subscribe to our mailing list * indicates required Email Address * First Name * Last Name Country * United States of America Virgin Islands (U.S.) Canada International / Worldwide Email Format html text Marketing Permissions MyBadges will use the information you provide on this form to be in touch with you and to provide updates and marketing. Please let us know all the ways you would like to hear from us: Email You can change your mind at any time by clicking the unsubscribe link in the footer of any email you receive from us, or by contacting us at ashley@mybadges.com. We will treat your information with respect. By clicking below, you agree that we may process your information in accordance with these terms. We use Mailchimp as our marketing platform. By clicking below to subscribe, you acknowledge that your information will be transferred to Mailchimp for processing. Learn more about Mailchimp's privacy practices here. (function($) {window.fnames = new Array(); window.ftypes = new Array();fnames[0]='EMAIL';ftypes[0]='email';fnames[1]='FNAME';ftypes[1]='text';fnames[2]='LNAME';ftypes[2]='text';fnames[5]='MMERGE5';ftypes[5]='dropdown';}(jQuery));var $mcj = jQuery.noConflict(true);