Sponsorship Branding = Revenue
DUH! 
Sponsorships make the world go round. You rely upon your sponsors (new and returning) to help you pull off each event you put together. According to this article from our friends over at Bizzabo Blog, 16% of eventprofs find sponsorship to be their most challenging task, but 75% of sponsors are constantly prospecting to form new partnership opportunities. With sponsorship spending predicted to hit nearly $63 billion dollars, sponsorship is a form of marketing you can't afford to miss. (All of this information and more detailed statistics relating to events can be found here. Live and in person events show no sign of slowing down, so getting your sponsors in front of attendees is imperative.
Sponsorship is a win-win.
Sponsorship can be defined as supporting an event/organization/cause financially through products or services. Sponsorships can be either monetary or in-kind. In-kind sponsorship is the donation of goods or services instead of cash.
You know the advantages of sponsorship for you, but how much can a sponsor really benefit from sponsoring your event?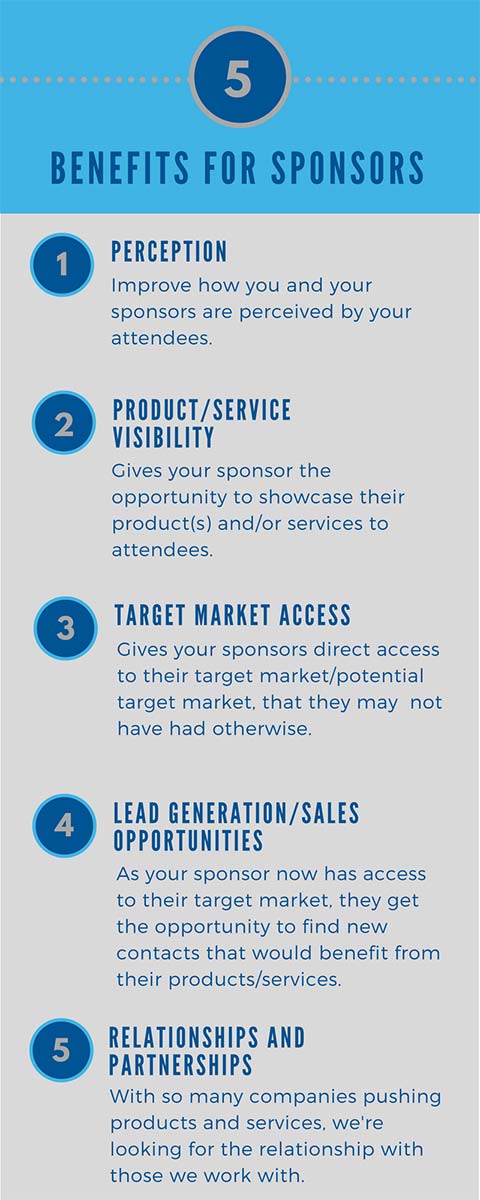 What's in it for you?
While focusing on finding sponsors is a good thing, you should first work on what you need from this partnership.
Events and conferences show no sign of slowing down, rather on the upswing, but don't just look for any sponsor that's willing. Look at your attendee target market, and find opportunities that align within that audience. Putting a company in front of your attendees that would have no effect on them makes for an unhappy sponsor at the end of the event and irritated attendees wondering what you were trying to do. Spending a little time to find those companies that your attendees (or other sponsors for that matter) would want/need, saves you in the long run.
Know your target audience
Come up with offers that would interest your prospective sponsors.
Technology makes the world go 'round, so use tech to your advantage. Eg: virtual event bags for those that offer a service. Want to live stream your event? Fantastic sponsorship opportunity.
Use feedback from attendees and share that information with your returning sponsors, or prospective sponsors to gain that trust so they want to keep supporting you.