Taking standard printed lanyards to the next level.
Working with a client on a tight budget for ID solutions can sometimes leave you feeling a little uninspired. Good news! You don't have to feel like you have no options (your standard 1 color print on a standard polyester lanyard) when it comes to printing event/company/sponsorship logo (s). Our Full Color Economy Printed Lanyards are your perfect solution to solve tight budget constraints, without sacrificing print.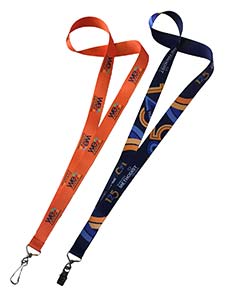 Four color print process on polyester – whaaaaat?!
You've always known you had two options when it comes to printed lanyards – your silkscreened lanyard which is typically good for 1-3 print colors, and your dye sublimated lanyards and those were meant for multi-color logos with incredible details that need to be printed.
The full-color economy lanyards, give you the ability to have the four color print process (same as the dye sublimated) but on the polyester lanyard, that your typical silk screened print would be done on. Because of the printing process, these lanyards are only able to have the full-color print on the front side of the lanyard only.
You still get the crisp print, and quality print, with the comfort of the polyester material, but these lanyards don't break the bank. High quality look without spending a ton? #winwin
These lanyards can come with the single clip attachment, or you can get these with the double-ended attachments in our no twist style of lanyards. We used this full-color economy style at the Go West Conference in early 2018 and they were a hit. What better way to show off a new product, than use at a conference full of event planners?!
Poly Dye Sublimated Features
Four colour digital print process background and imprint with full bleed
Quality, durable fabric – washable
Comfortable polyester material
Single attachment or double ended attachment options
Print only available single sided