Day 1:
Opening night celebrations – Mohawk College
The time has once again arrived – the annual CUCCOA conference. Hosted by the Central region in Hamilton, ON!
We all gathered in the lobby of the Sheraton on Sunday evening, and we hopped a bus to Mohawk College for the opening night celebrations for CUCCOA 2018. We arrived and headed to their newly renovated theatre, and with a variety seating arrangements, and food to either side of the stage, there was plenty of room to socialize and catch up with members on life over the previous year – professionally and personally – as well as get to know new/first time members. 
There were some tables for sitting, and some cocktail style tables to gather around and chat. There were food stations on both sides of the stages. On the right side, we had the salads and desserts (#balance) and on the left side, we had the entree choices, such as build your own taco, mini sliders (of different proteins), pad Thai, and taco bowls. Of course, in the middle we had the bar with red wine, white wine, beer, water, coffee and tea. 
After the dinner, we all bussed back to the hotel, where that evenings sponsor and CUCCOA members attended the hospitality suite, full of snacks, games, socializing, and beverages – naturally.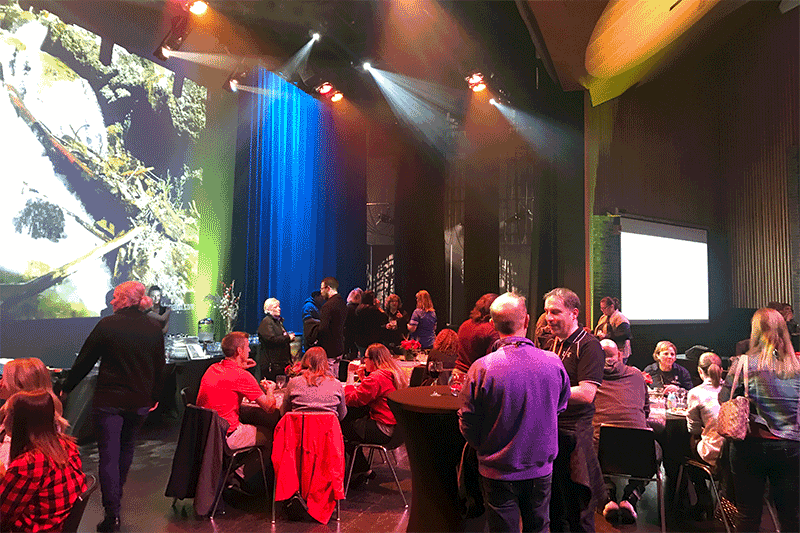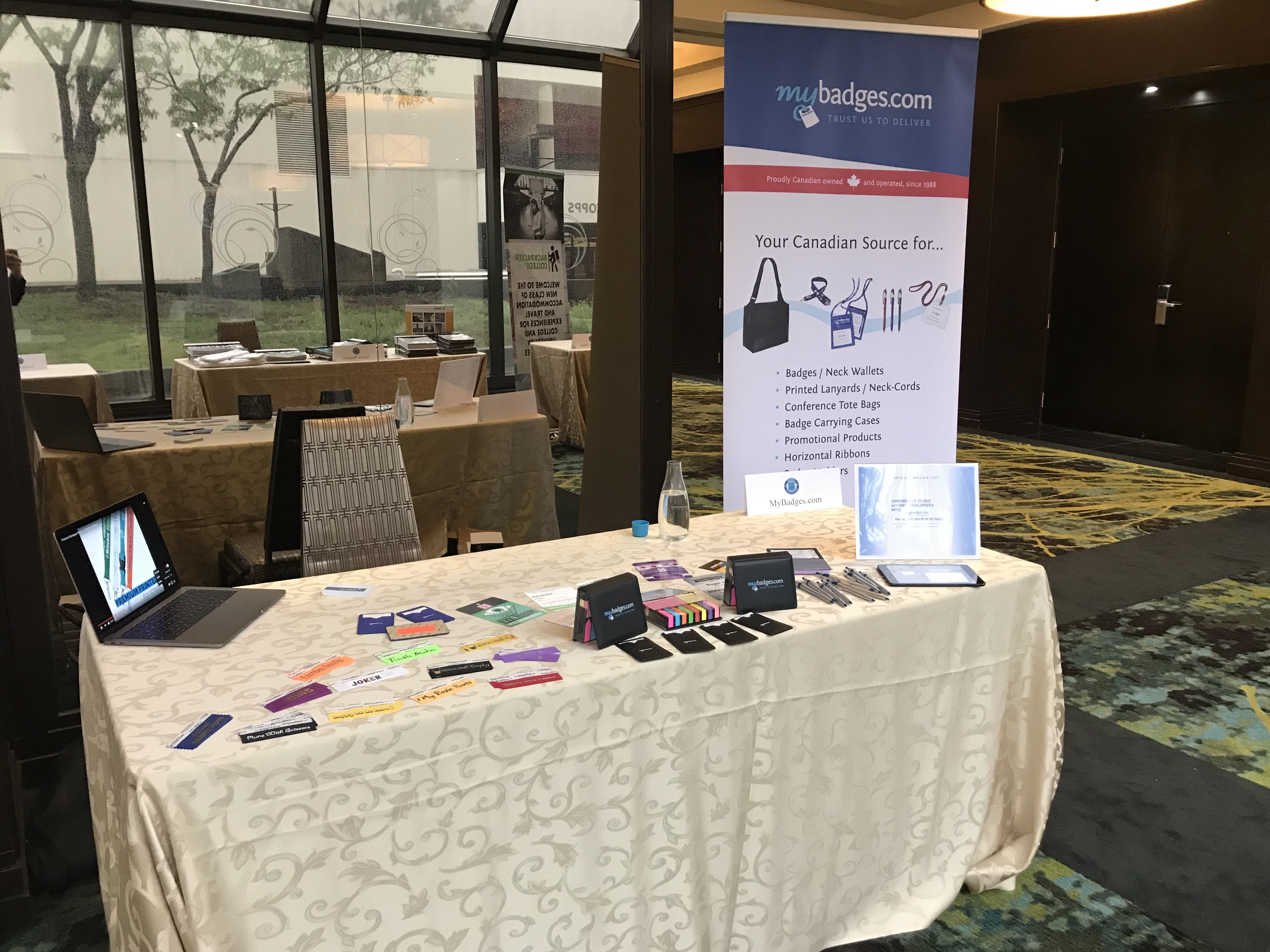 Day 2: 
Educational sessions / Networking breaks / Evening event – Rock Botanical Gardens
Up and at'er early to head down to the conference area for breakfast, and more importantly for us sponsors/exhibitors, setup. Oh, and coffee because coffee is life. Fun fact though – did you know that I've run into a lot of event professionals don't drink coffee?! How???? Guess they just go straight to the wine? Jokes! 
Ok, all is setup and the attendees are in educational sessions. Exhibitors sneak in some work, and some socializing but 10:30 quickly arrives and the attendees are bustling around the exhibitor tables. Back to sessions at 11, followed by lunch at 12:30 and then more sessions. 3:00 networking break, and then more sessions. There was lots of buzz amongst the exhibitors, and it was nice to see some new faces. The sticky note portfolios we gave away, were an absolute hit. Same with the pens and the RFID card holders. Showcasing, and giving away, products to attendees that showcase which types of products they can use for branding and sponsorship opportunities really helped us launch our promotional products, or as we like to refer to them – conference essentials. 
Back upstairs to get ready and meet in the lobby for group pictures. When you've got people from across Canada, you need to document it – Coast to Coast baby! 
Back onto the buses and we headed to the Botanical rock garden. Our bus took a slight detour, but we did eventually make it 🙂 Similar setup to the previous evening, with sit down tables and cocktail tables.There were stations across the windows that would showcase the food stations to come. Pasta bar, mashed potato bar, salad and roast beef station. Desserts. Bar (duh – honestly, does it even need to be said?). A human sized game of connect four. A wonderful garden to walk around and take photos, minus the chilly weather and drizzle. 
Back to the hotel after a few hours, and same scenario as the previous night – hospitality suite time. 
Sleep? Who needs sleep when you can socialize!
Day 3:
Educational sessions / Networking / 2019 announcement / Closing gala
The day ran similar to the previous day – education, networking, repeat. There was however the awards ceremony (congrats Jessica, Susanne, and Ryan!) and the reveal of the 2019 host. Druuumrolllllllllll please! 
Congratulations Calgary – we can't wait to see what Jill, Anil, Sarah, ____ and Anthony) have in store for us – we know it'll be amazing. West is best 🙂 The funny part of this was that Calgary was in the midst of a snowstorm, so we're all crossing our fingers that's not the case next year ha!
The theme? Masquerade. Cannot wait for September 2019 and welcome everyone to the Western part of the country again. 
More education and networking followed. Then everyone raced to get ready for the closing gala which was sooooooooooooooooooo far away 😉 We walked across the street to the Art Gallery of Hamilton, and had a very bright room full of windows to let in the natural light. The gala was a full 3 course sit down meal and after the gala was over, people headed to Moody's – the local watering hole if you will. Drinks, arcade games, dancing and laughter – what more could you ask for? We shut the place down and headed back to the hotel for another round and sleep before we all checked out the next day. 
Huge thanks to the Sheraton Hamilton for hosting us and to the Central region for putting on an amazing conference. See you guys in Calgary next year! No snow though, K?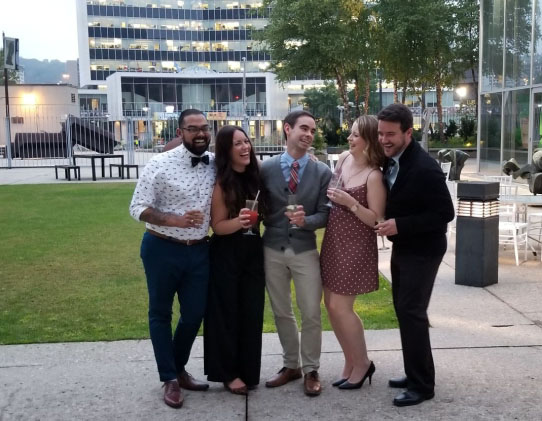 CHECK OUT CUCCOA  ON SOCIAL MEDIA