EventBadge with a badge holder – say whaaaaaaaaaaaaaaaat?
Not only did we release our newest line of badges for conferences and events in 2018, we took it one step further and added a badge holder! 30 looks pretty good on us, if I do say so myself!
I know what you're thinking – "why on earth would someone want a snazzy EventBadge, but still use a good old fashioned insert and badge holder? Why wouldn't I just stick with a standard badge holder?" – and we get it. However …just hear us out.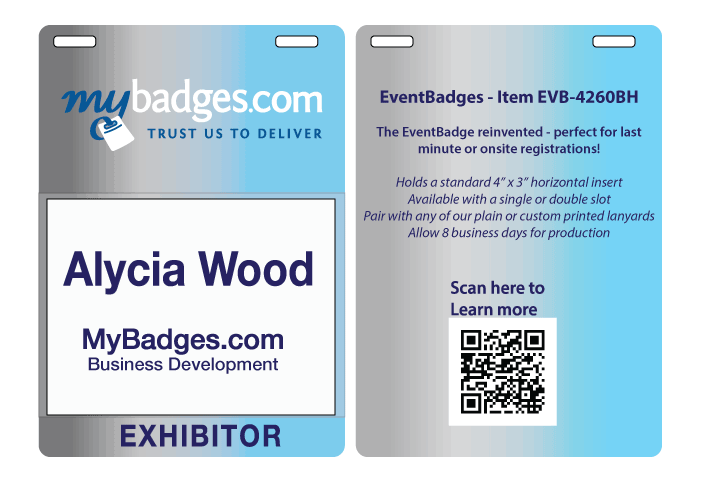 Picture it. You're trying to reinvent your ID solutions for your clients, and give them a stunning badge, without breaking the bank. Earlier in 2018, we released our EventBadges to help you design something phenomenal with relatively quick turnaround time. However, you know you should print blanks, just in case something goes wrong, or more people show up, but then everyone's badge doesn't look the same and the feedback from event planners was amazing. But, with registration periods open for longer periods of time, and close to the event date(s), the feedback was that you didn't have enough time to turn these around without causing yourself panic. We don't like panic – panic is no good! What gives you the flexibility to order in advance, and print onsite …? You guessed it – adding a badge holder.
Huzzah!
You can still print a full color badge on the front and the back, the only difference is that you do not need to give us your spreadsheet with names/companies to print in advance. You can print onsite, or in advance – that is completely up to you. You get your choice of a single slot in the middle, or the two slots on either side, to use with a double ended/no-twist style of lanyard.
Name badges are not rocket science, but sometimes balancing an envisioned design, within a tight timeline, and on a budget is. Let the EventBadge with Badge Holder be your saving grace when it comes to bringing your event ID to the next level.
Security features (such as holographics) are also available on all styles of our EventBadges, as well as custom sizes and designs. Talk to us about how we can help you design the perfect badge to suit your needs and your wants.