Outstanding branding opportunities.
Yes, the rhyming was totally on purpose! Anywhooozle.
Our feature product for April is our printed premium neck wallets. Our neck wallets have the opportunity to have branding on both the pouch and the lanyard, and you're not limited to a one color print. Print up to 6 colors on the neck wallet, on any version listed below.
Clean sew lines, and crisp print, helps ensure you're nailing your branding opportunity, while giving your attendees something durable and easy to carry around their small personal belongings (such as a phone, room keys, cash etc.) instead of hauling around their bag. Plus, you'll want their hands free for mingling and socializing throughout your event.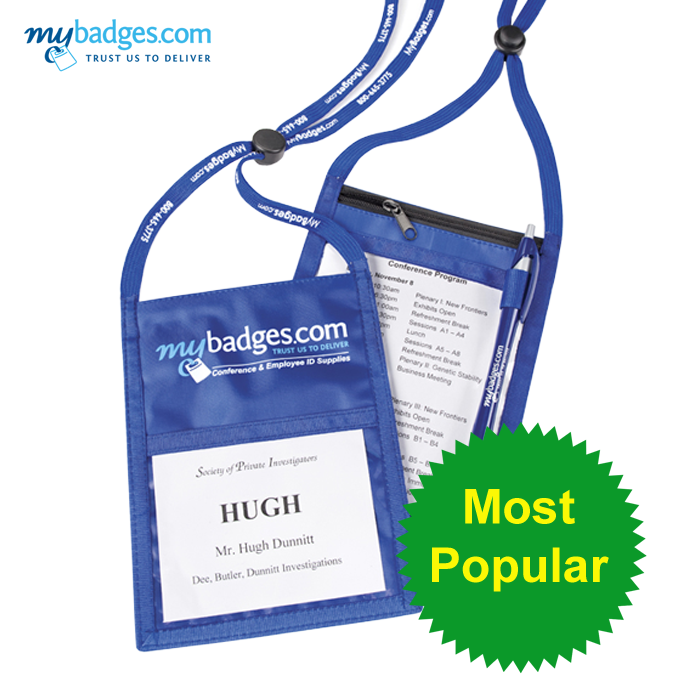 PBW-04 – The Classic
Our most popular version of our neck wallets, is the PBW-04.
Logo(s) above the standard name badge pocket (4″ x 3″)
Full length zipper pocket to conceal personal stuff such as: room keys, credit cards, cash, business cards, cellphone (tested with an iPhone XS) and even a passport fits in there.
Full size clear pocket on the back comes standard, so you can insert an agenda or other conference information paraphernalia.
Lanyard pre-attached with the option to print or leave blank
Multi-color imprints available for the pouch and the lanyard
PBW-04-TP: The classic, with a twist!
Same overall sizing and dimensions of our classic PBW-04, but flips it upside down so that the name shows at the top and the logo is below the name badge pocket. Fun fact: there is a secret hidden pocket on this version only, which is great for business cards you collect throughout the day.
Still comes with the full length zipper to hold personal paraphernalia such as credit cards, cash etc. and the pocket on the backside to hold an agenda or other conference information.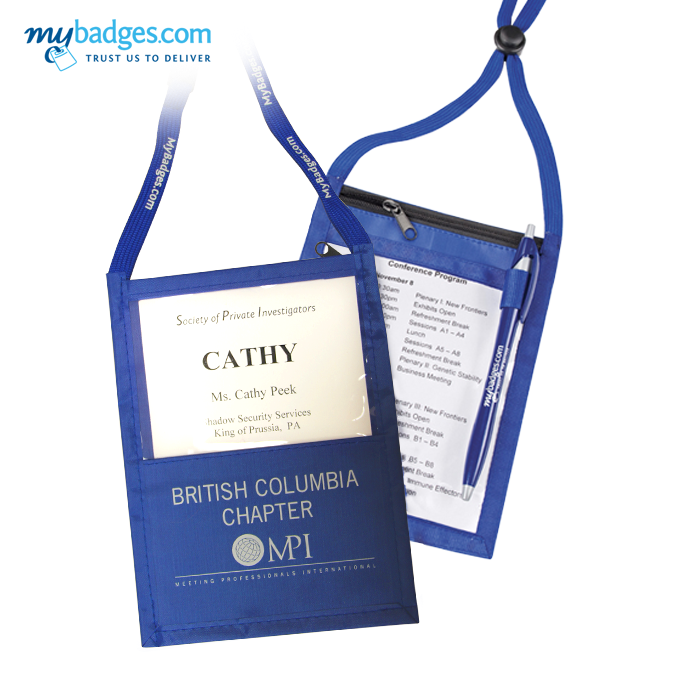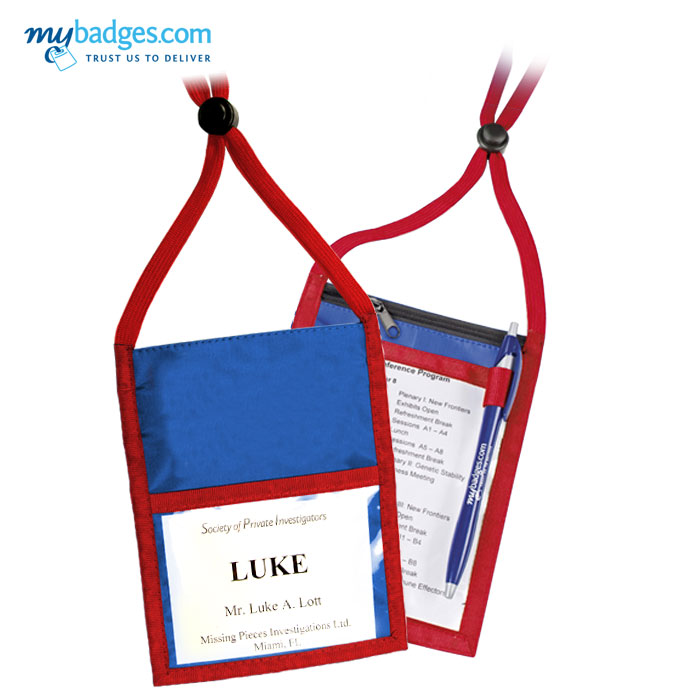 PBW-04-2T: The classic, with a colorful twist!
Back to our PBW-04 standard layout, we offer our two tone neck wallets! With 15 colors to choose from, you can mix and match pouch and trim colors for a fun and colorful twist for your attendees. Take color coordinating to a whole new level!
Still has all the features you're familiar with, including the full size zipper pocket to hold personal information/products and the clear pocket on the backside to hold an agenda or other information.
PBW-03: The compacted neck wallet
Looking for something a little smaller, but still wanting a neck wallet? Introducing our compacted neck wallet, the PBW-03. Same quality you have come to expect, just with a smaller imprint area above the name, and no clear pocket on the back. We still have the zipper pocket in the middle to hold personal information.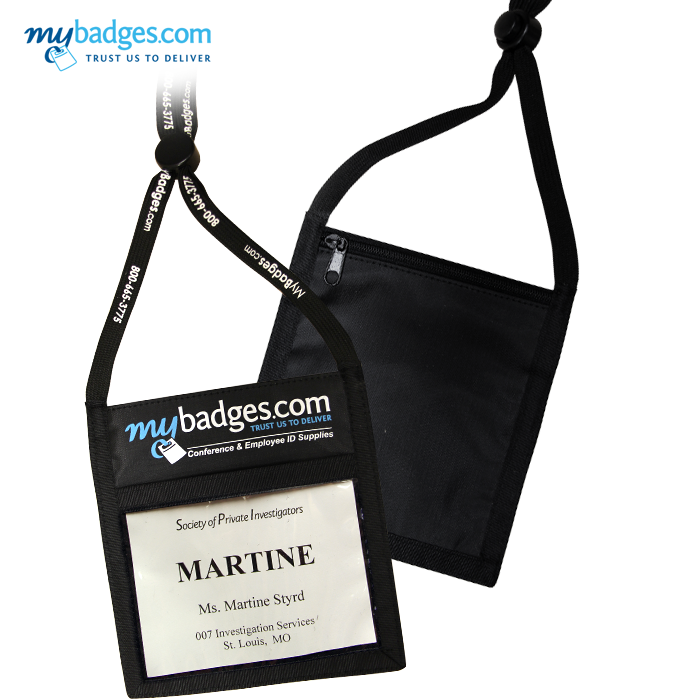 Our neck wallets are durable and quality made products, that are perfect for any type of conference. Especially handy for multi-day events, where functionality and style meet in one stellar product your attendees won't mind wearing. Whether you're reusing from year to year (good luck keeping people from walking away with these!) or getting new ones for different events, you won't be disappointed.
All of our neck wallets can be fully customized as well. Looking for a neck wallet, but you have a sponsor who has lanyards done already? Talk to us about removing the lanyard and adding a single D ring or two D rings so the lanyard the sponsor has already provided, works with your neck wallet. Need to add a pocket or take one away? Need to increase the height or the width? Let us know, and we'll help you put together a custom product made specifically for you.
Fun tip, post conference: use your neck wallet when you travel – great for fitting your passports into so if your purse or bag is stolen, you still have your passports and some money.