OK, so we're a bit behind the 8 ball …but we're back! Our September product feature is a combo use of the clear in vinyl badge holders and the non-printed lanyards.
I sometimes feel like badge holders and lanyards that aren't customized, are given a bad rap, but they're the basis of our industry. What we see today, is an evolution over time. I mean, really, It all started with a badge holder, and a way to attach. In fact, lanyards were first used in the 1500's by pirates and French soldiers, as a way to keep their weapons handy. [More on the history of lanyards can be found here.]
Every event needs badges and a way to attach them each attendee – whether you choose to have lanyard or look to have a clip/pin/magnet to attach instead. Just because you're using a product that may not be customized, doesn't mean it isn't the right style for you to use for your event.
Lots of customized products are done based on sponsorship or branding opportunities, and that isn't always an option for each event. Is it the dream, probably, but we gotta roll with the punches.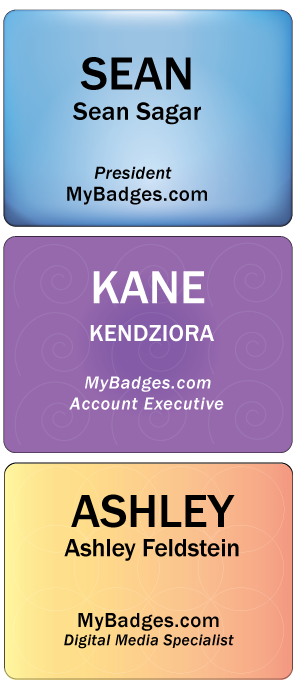 Standing out on a budget
You can still create yourself an outstanding badge, and designations, even when using the clear vinyl badge holders.
Focus on putting the emphasis into your name badge insert. Use the colours of the event, and you can work on having different designs for different attendees, so you can categorize them. You can also do this by using colour coded badge, so you have a different colour for each category (attendee, exhibitor, speaker etc.) or by adhering ribbons to the bottom of the badge.
Pair with a lanyard that has no printing on it, et voila – you have incorporated your event / conference colours without breaking the bank especially on limited budgets.
Want to make your badges a talking point still? Upgrade to the biodegradable material. While this is not currently available in stock in every size, the option to change to biodegradable material exists on all of our clear badges. Just let us know what you're interested in and we'll handle the rest 🙂
Backup Plans are a necessity. We've got you covered.
Even if you have a budget to have the branded badge and lanyards, sometimes, you need a backup solution, just in case. Late registrants, mis-prints etc., can cause minor panic. However, we do keep products in stock so that we can ship to you next day, to save yourself (and your sanity).
Trust us, it's not the first time we've ever driven to the FedEx express office at the airport to get a shipment on the plane in time …or even made pit stops on our way home to drop something off (if your event is in the Metro Vancouver area).
Using non-printed lanyards and clear vinyl badge holders, can give you a lot more flexibility when it comes to preparing for the event, or can be your knight in shining armor if you're in a pickle.