Lanyards, lanyards, lanyards – these are a prime product that you can use for event branding and/or sponsorship branding. But what happens if you're working with a client in a high risk occupation, or you have a client with strict safety requirements? Lanyards are great for branding, but what happens if a client refuses to use them because of safety standards?
Enter the super safe lanyards.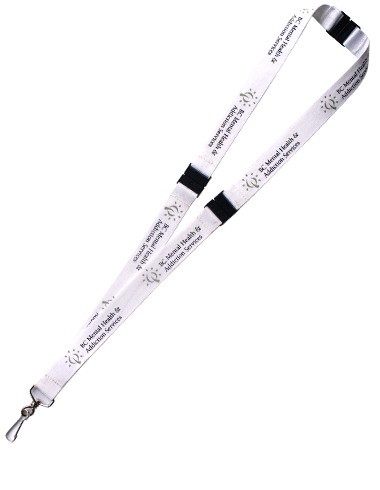 What the heck is a super safe lanyard? 
On our standard polyester or digitally sublimated lanyards, we have an option to add a breakaway at the back of the neck, which is a great option for those that need something to tick the safety box, because #safetyfirst.
The super safe lanyard has a breakaway at the back of the neck and one on each side of the lanyard. Three breakaway points – that's cray-zay! There are times where lanyards like this are a necessity.
Why should I use these? 
A prime example for using these style of lanyards, is healthcare. For a conference or event, you can likely get away with one breakaway, or do two (one on each side only). But if they're used at the conference but then can be used inside / at the work place, safety considerations take priority.
Another example would be if you're working within the education sector. All education sector staff have badges, and lanyards to hold their ID for building access safety. While the education sector may not need 3 breakaways, they do need something to breakaway, just in case of a safety event.
Are these used with a different material? 
Nope! We show on our site with the polyester, but you can absolutely make any style of lanyard we provide, a super safe style.
The material is still the polyester, digitally sublimated, bamboo, recycled, or cotton, but just with the breakaways positioned to give you the maximum safety capability.
This doesn't mean you can't brand your lanyard, because you absolutely still can. You can send us your artwork and we'll work with you to design a lanyard that gives you maximum brand and/or event sponsorship visibility, but while also adhering to the safety standards required by the client.
*Limitation of liability:
Under no circumstances shall MyBadges USA Inc hereinafter referred to as MyBadges, be held liable for any indirect, incidental, special or consequential punitive or multiple damages, including without limitation, business interruption, loss of goodwill, loss of use, loss of revenue/profits, negligence or otherwise that result from the use of, or inability to use, products on this website even if MyBadges has been advised of the possibility of such damages.
Applicable law may not allow the limitation of liability or consequential damages, so the above limitation may not apply to you. In no event shall MyBadges total liability to you for all damages, losses, and causes of action exceed your order amount, paid by you, to MyBadges.