Our planet is beautiful right? It's also the only one we've got. People buy billions of useless, throw-away, single serve items every day that are typically destined for a landfill at some point in their life. It is up to all of us to vote with our dollars and put our money where it counts, by shopping sustainably with our oceans and forests in mind. Supporting eco-friendly companies and initiatives is more important than ever, so here are a few product ideas that not only help you align with your earth-conscious values but also directly or indirectly aids in making our planet a better place for our future generations.
All products shown here are decoration ready, and have the potential to be branded with your logo.
1. Pine Tree Growables Planter in Kraft Gift Box
Did you know that in one year, one tree produces nearly 260 pounds of oxygen, and one acre of trees removes up to 2.6 tons of carbon dioxide? Both deciduous and coniferous trees assist in lowering our planets temperature by evaporating water in their leaves and needles.
These sets come with the multiple decoration options as well as the option of pine trees, food (such as jalapeno,basil, serrano, + more) and flowers (such as Sunflower, Marigold, Wildflowers + more) If you are looking for a guiltfree, feel-good gift to give your staff, members or patrons, this one's got it all..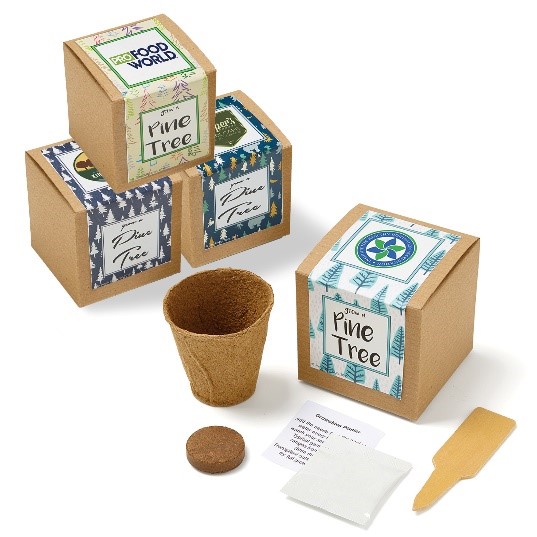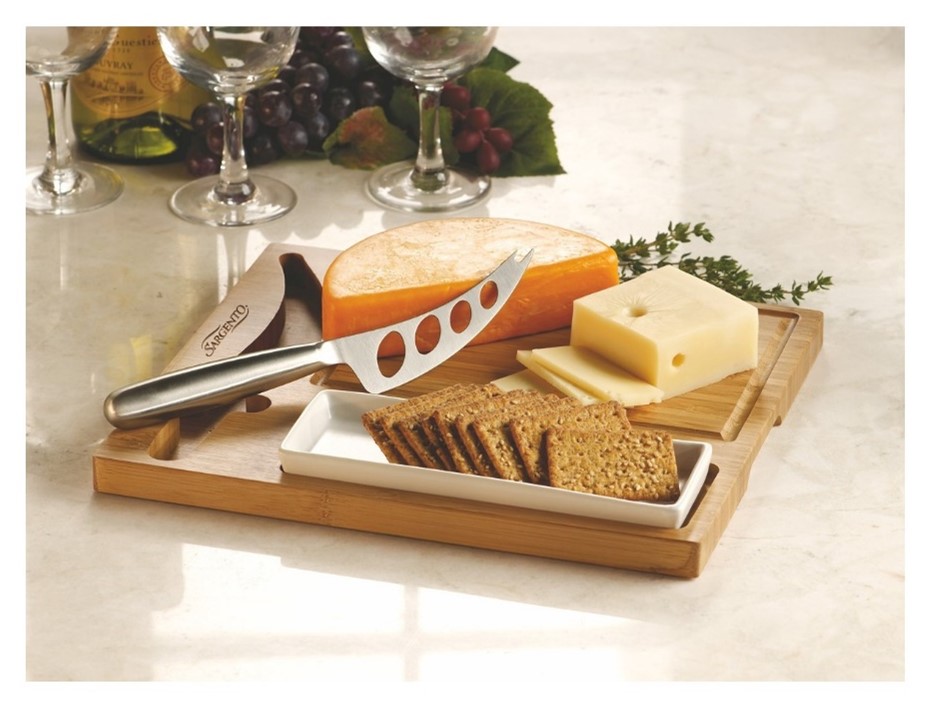 2. Bamboo Cheese Server Set
Ahhh, yes, Cheese. Who doesn't love cheese?! Well, besides our friends who have a lactose intolerance and our vegan friends, it is a pretty safe bet that most people enjoy a slice marble cheddar or a wedge of brie on a cracker, when at a gathering. So display your cheese in sustainable style!
Bamboo is known to be the most sustainable wood product in the world due to its hyper-fast growth, over-abundance and it's handy-work in the oxygen department.  It is said to be the fastest growing plant on the planet; grows up to 3 feet in height in 24 hours; reaches maturity after only 3-5 years; releases 30% more oxygen into the air and absorbs up to 4 times more carbon dioxide when compared to most other plants.
3. Washable Reusable Kraft Paper Bag

These bags get ALL the praise, I currently own 3 of them and I swear by them. When I am at the grocery store, I am constantly getting: "So…you can WASH it?!", "Is it Paper?!", "Wow that is SO cool!", "Where did you get it?" Well folks the answers are yes, yes, I know and MyBadges Promo.
These bags are made of 350 GSM Heavy-weight Natural Kraft paper and are very well constructed. With crisp fold lines, natural kraft colored stitching and a natural-colored web handle. They are 10 times sturdier than your average grocery store reusable bag, sustainably made AND you can have your logo imprinted on the side, it's a win, win, win.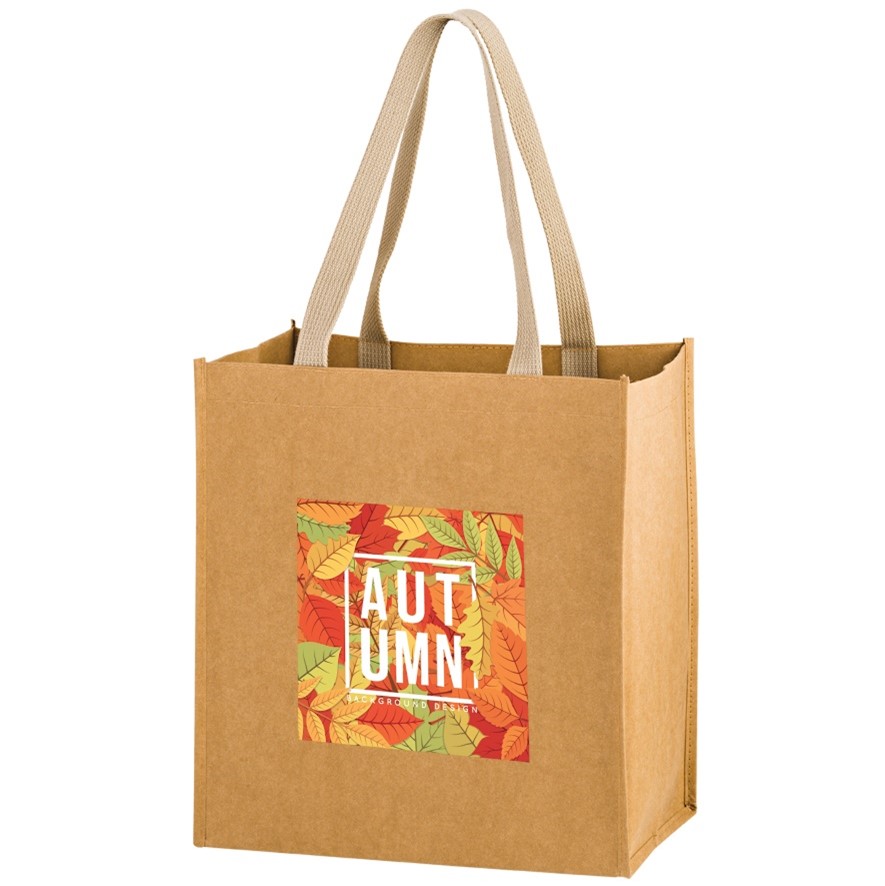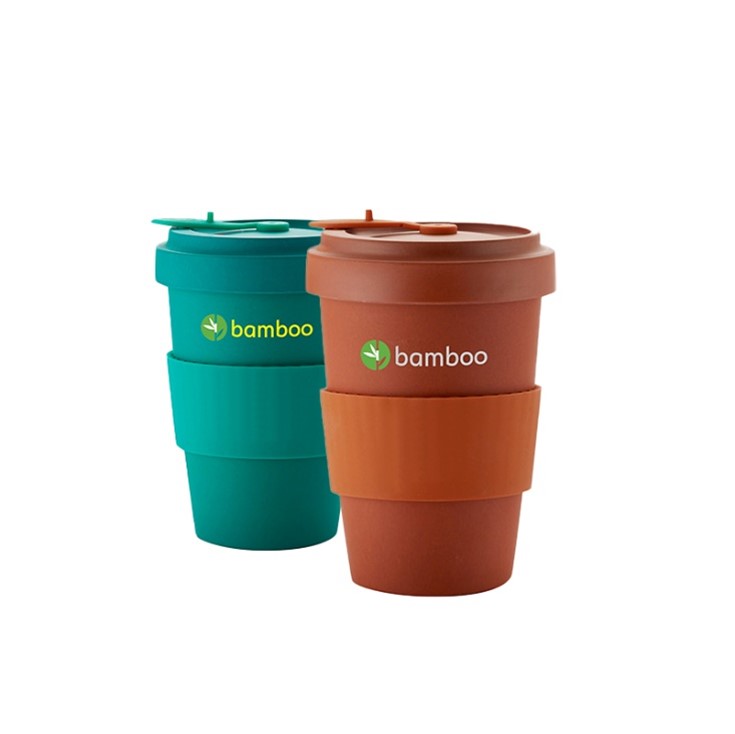 4. Earth-Friendly Bamboo Fiber Travel Mug
This seemingly ordinary travel mug comes with a set of extraordinary properties! Aside from being reusable and dishwasher safe, it is crafted out of naturally organic bamboo fiber. Holds 16 oz of your favourite bevvy, AND a portion of all the proceeds goes to Project Aware, a 28 year not-for-profit organization that is focused on protecting our oceans from harmful debris and pollution.
These mugs come in a variety of colors and are also decoration ready. Put your logo on the side and feel good about giving this gift to your recipients.
Yes folks, you heard me right, but I will say it again: apple peel journals. These sleek and stylish notebooks are made entirely of apple pulp and other vegetable fibers, sweet apple scent included. The raw material is ground down and emulsified into the organic paper used for the journal pages. The cover of the journal, leathery at first glance, is a bio-based leather alternative. Made with bi-products recovered from the fruit juice industry. The "leather" is made in Italy, and is 20-30% apple based the other 70-80% is made of scrap remnant material that would have otherwise been thrown away.
These journals come in a variety of different styles and colors, with the option to have your logo embossed on the cover, and are the perfect gift for the vegan or apple aficionado in your office.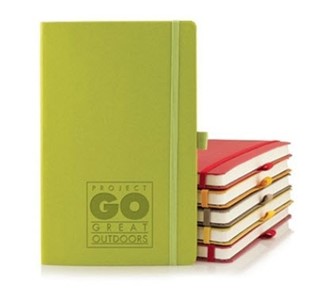 The Targus EcoSmart backpack boasts a super ergonomic design for maximum comfort, and adjustable features to help distribute weight correctly. Some other features include: 24 L of storage space, device padding for safe laptop transportation (< 16" laptop), piping around the bottom so it can stand upright, it zips all the way open from top to bottom for easy access, comes with two main compartments and stationary storage, and to top it all off, it's made out of recycled water bottles and PVC-free materials!
Have your full-color logo imprinted on the front panel to brand, or we can ship plain with no imprint.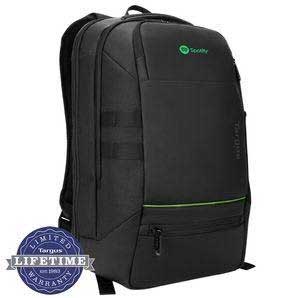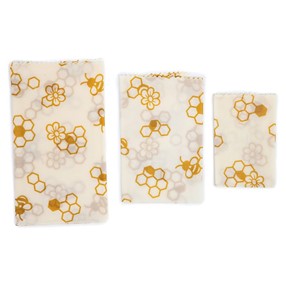 7. Set of 3 Eco Friendly Reusable Beeswax Food Wraps
These reusable beeswax food wraps are fairly new but you may have heard of them as they have been around for about 8 years now. In an effort to reduce the amount of single use plastic bags and just overall plastic consumption, these babies were invented.
The concept is simple really, you can use them to wrap and seal anything you would typically put in a sandwich bag: Fruits, vegetables, cheese, cooked meats, you name it. These food wraps are a no brainer, and would come in handy in every kitchen whether you are zero-waste or not.
8. microgreens desktop grow kit
 Microgreens are the edible seedlings of vegetables and herbs that are rich in nutrients and packed with flavor. A hot food trend, microgreens are easy to grow and are a great addition on top of salads, sandwiches, pizzas, pastas and as a garnish to almost any dish. This microgreen kit contains everything your customer will need to grow microgreens right at their desk including 1 multipurpose bamboo box, 1 reusable growing tray, 2 Hydroponic Grow Pads and 1 pack of micro green seeds.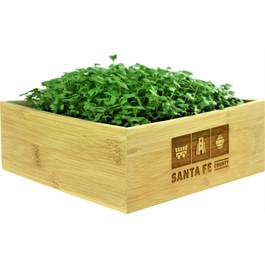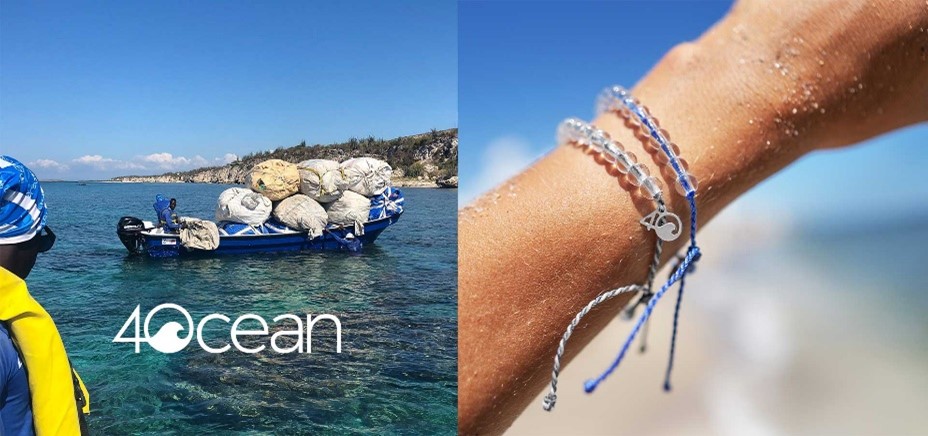 The 4Ocean beaded bracelets are the only thing on this list that are not customizable, however they do make a great gift for the environmentalist in your office. Every 4ocean product purchased is married to their "One Pound Promise"; the promise to pull a pound of trash from the ocean, rivers, and coastlines. Every purchase helps fund their global ocean cleanup operation and supports a movement to end the world's reliance on single-use plastic.
Last but definitely not least, our reusable/washable mesh produce bags. As most of us try to reduce our reliance on single-use plastics that litter our oceans, forests, plains and waterways, there is always that one exception when at the grocery store. The plastic produce bag. Well this reusable produce bag is a sustainable option for anyone wanting to do their part . With a large imprint area on the side of the bag, make sure people know that your organization supports the reduction of needless plastic waste.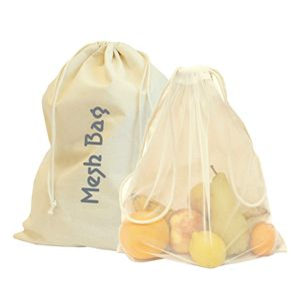 For more promotional items and gifts visit the mybadges promo websites