#SUSTAINABLESWAG #11 recycled card
As part of our #EarthDay eco conscious conference series – we are looking at the top 10- earth friendly materials for promotional items. . To make the list items must be made with earth friendly, sustainable, recycled, recyclable or biodegradeable materials. 
Putting on an eco-friendly event is much easier than you think, and with so many choices available, delegates can still get the same swag buzz they know and love! Eco Friendly does not have to cost the earth so why not make 2021 the year we make can make a difference.
recycled card : 100% biodegradable
The penultimate Eco friendly material for conference and event items is a renewable legend – Recycled Card otherwise known as recycled cardstock.
Recycling Card and paper has the following benefits
Reduces Landfill Waste
Saves Energy
Saves Trees by recycling
Recyclable Again and Again
Biodegradable
Compostable
Sustainable
recycled CArd: 100% sustainable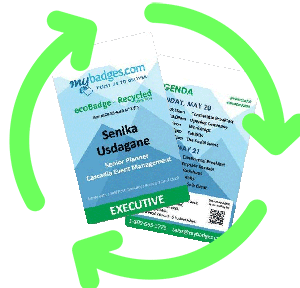 Cardboard is one of the most commonly recycled items.
Originally made from natural wood fibres – the same as paper – it is easy to recycle multiple times and can be used for everything from boxes to packaging to conference name badges.
Avoid contaiminating your card waste with oil, food or anything that means it is no longer able to be recycled!
Try having recycle bins for badges only to ensure that all of your badge waste is recycled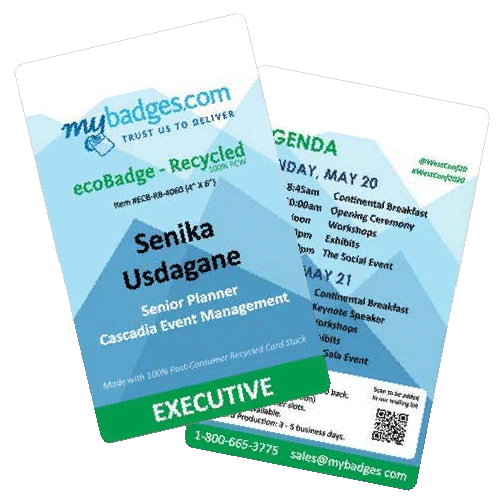 The eco EventBadge – made with recycled material
Our recycled card stock badges: 
Full color print
Personalized data is able to be included
Standard 5 day production time (Rush production is available)
Recyclable card stock
Canada Recycled EcoBadge
recycled name badge inserts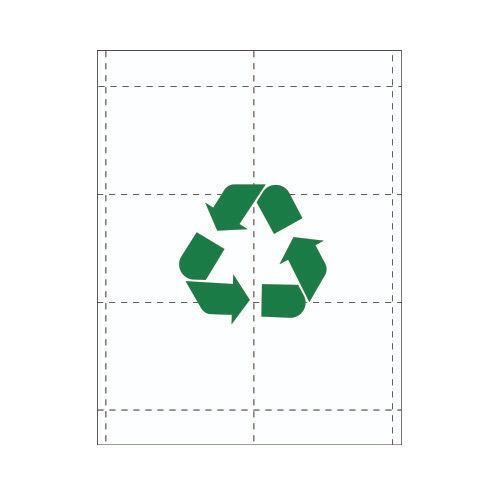 This layout matches Avery® template #5392 in MS Word. (6 to a sheet)
Page Size: 8½" x 11″
Insert Size: 4″ x 3″ (6 per sheet)
Packaged: 600 inserts per package (100 sheets)
Works with any of our 4″ x 3″ badged holder
Canada Recycled Badge Inserts
view more plastic free alternatives >>
Sustainable Swag - Eco conference Blog Series
Sustainable Swag - Eco conference Video Series
view more plastic free alternatives >>