#SUSTAINABLESWAG #2 Recycled PET Plastic
Putting on an eco-friendly event is much easier than you think, and with so many promo choices available, delegates can still get the same swag buzz they know and love! 
As part of our #EarthDay eco conscious conference series – we are looking at the top 12 earth friendly materials for promotional items to help you find the right swag for your conference or event. To make the list, items must be made with earth friendly, sustainable, recycled, recyclable or biodegradable materials. 
Eco Friendly does not have to cost the earth so why not make 2021 the year we make can make a difference.
PET PLASTIC: strong & lightweight
Number Two in our Top 12 Eco friendly materials for conference items is one of the most unnatural but one of the most sustainable sources on the planet – Post consumer plastic waste, or Recycled PET Plastic
Plastic production is not going to go away completely, but if what is produced can be recycled we can at least reduce our consumption, reuse resources we already have and of course recycle as much harmful plastic as possible.
Recycled PET Plastic is
100% sustainable

Reusable
Strong & Durable
Lower Carbon footprint than original PET
Lightweight 
Safe to use for food and drink
Recycled PET can also partially replace materials, making it incredibly strong, versatile, and the perfect material for items such as backpacks and lanyards that need to not break easily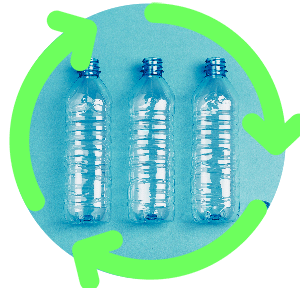 The beauty of PET is that it is completely recyclable. This means that it can be used over and over again to create more products. Which means that if you're looking for Conference Swag to stick around – items that can be re-used are perfect
rPET is both lightweight and strong, making it perfect for clothing, bags, and lanyards, and it can be recycled many times – making it 100% sustainable as a material.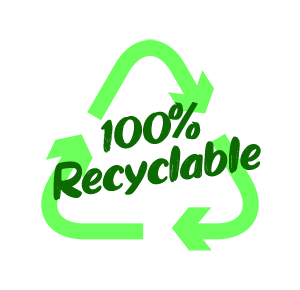 Recycled PET is hard wearing and easy to print upon making it the perfect host for your logo or branding message.
There are not many things you can't make out of Recycled PET Plastic. Being totally food safe means that you can brand food and drinks cartons, cups, tumblers, water bottles as well as the usual pens, lanyards, backpacks, totes and shoppers
Why not call us on 1 800-665-3775  to discuss your sustainable swag needs!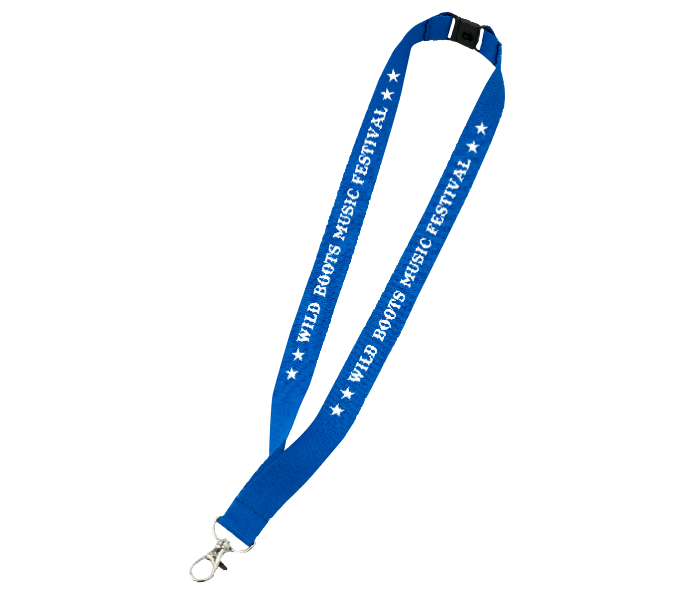 Made of 99.9% post consumer plastic bottles, these earth friendly, custom printed lanyards come with one color imprint with recycle logo added on request for no extra charge. Domestic or overseas production. Rush production is available.
RECYCLED PET PROMOTIONAL PRODUCTS
Here are just some of the promotional products you can choose from. All made with Recycled PET Plastic, and perfect for corporate gifts, conference swag or every day use in the office.
Brand with your logo or sponsor information why not call us on 1 800-665-3775  to discuss your sustainable swag needs!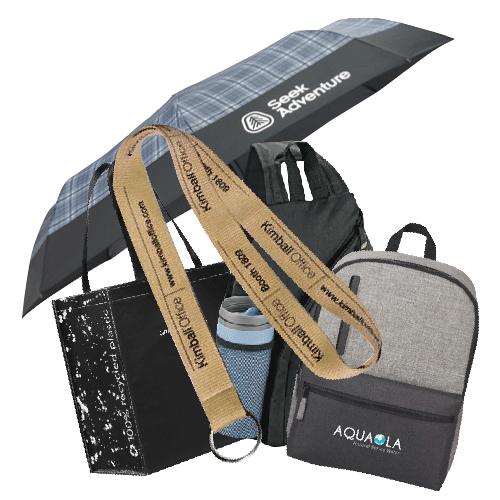 Recycled PET Lanyards – perfect for your brand logo or message
Shoppers & Totes – strong enough to hold all the swag!
PET Water Bottles – no more single use plastic bottles
Recycled Backpacks – stylish enough to take home and use
Sling Bags – on trend for a great giveaway
PET Fleece Blankets – it doesn't have to be cold outside!
Umbrellas – Expecting Rain? We have you covered!
See all of our Recycled PET Plastic merch

view more plastic free alternatives >>
Sustainable Swag - Eco conference Blog Series
Sustainable Swag - Eco conference Video Series