#SUSTAINABLESWAG #9 seed paper, seeded badges
Putting on an eco-friendly event is much easier than you think, and with so many promo choices available, delegates can still get the same swag buzz they know and love! 
As part of our #EarthDay eco conscious conference series – we are looking at the top 12 earth friendly materials for promotional items to help you find the right swag for your conference or event. To make the list, items must be made with earth friendly, sustainable, recycled, recyclable or biodegradable materials. 
Eco Friendly does not have to cost the earth so why not make 2021 the year we make can make a difference.
SEED PAPER: natural beauty
#9 SEED PAPER, SEEDED PAPER BADGES
At #9 in our Top 12 Eco friendly materials for conference items is one of the most beautiful and sustainable eco solution yet!
Plantable seed paper or seeded paper badge holders.
Mostly Recycled materials like cardstock are used and then seeds are added in the production to make plantable seed paper.
100% sustainable

Plantable

Magical

Memorable

Biodegradable
seed paper: 100% biodegradable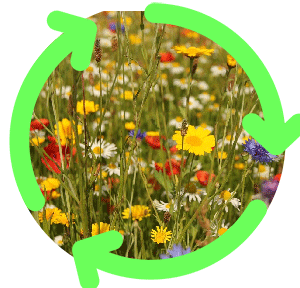 Plantable paper, or seeded paper come with built in herbs or wildflower seeds
This eco friendly paper has been developed so as not to harm ecosystems, and degrades in the ground in the same way a card seed pot does in the garden.
How awesome is that?
ecobadge: seed paper name badges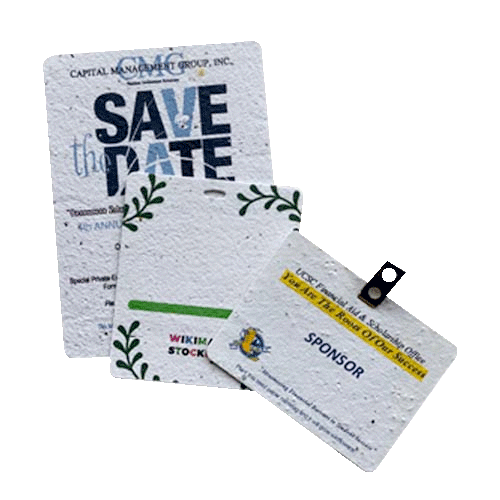 Made of 99.9% post consumer plastic bottles, these earth friendly, custom printed lanyards come with one color imprint with recycle logo added on request for no extra charge. Domestic or overseas production. Rush production is available.
Canada ecoBadge Seed Name Badges
view more plastic free alternatives >>
Sustainable Swag - Eco conference Blog Series
Sustainable Swag - Eco conference Video Series