Stone Paper ecoBadge - Eco Friendly - #SustainableSwag
Top Eco Friendly Name Badge Holders for Conferences & Events
#SUSTAINABLESWAG #10 stone paper
As part of our #EarthDay eco conscious conference series – we are looking at the top 10- earth friendly materials for promotional items. . To make the list items must be made with earth friendly, sustainable, recycled or recyclable materials.
Putting on an eco-friendly event is much easier than you think, and with so many choices available, delegates can still get the same swag buzz they know and love! Eco Friendly does not have to cost the earth so why not make 2021 the year we make can make a difference.
Down to the last 3 on the list of our Top 10 Eco friendly materials for conference promotional items – today we look at Stone Paper.
Yes you heard right – stone paper – paper made from stone. Limestone in fact. Crushed to calcium carbonate then combined with resin to create super strong, super silky printable paper
Sustainable

Strong

Durable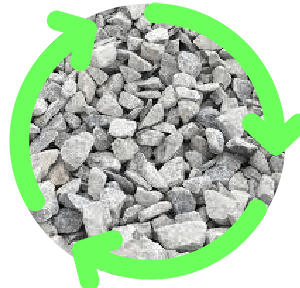 Created from the by products of construction – limestone is crushed into powder then combine with a resin.
The process is also free from water, making it even more sustainable and environmentally friendly than regular pulp based paper making.
The process also does not need chlorine to bleach the paper.
Paper is smoother than normal paper and does not tear easily, making it the perfect conference name badge stock. It is also waterproof – so the ink won't run when you spill your coffee!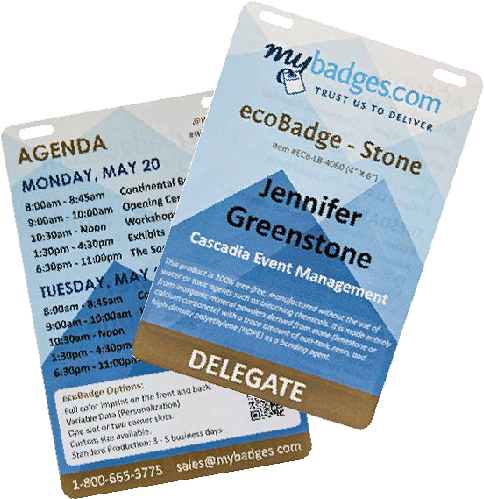 Stone Paper ecoBadges are made out of stone and mineral powders with a trace amount of non toxic resin and bonding agents.
Printable on both sides with personalized variable data available. Full color print means that you can have whatever you like printed on the front and back!
100% tree free
Chlorine free
Acid free

Smooth surface resulting in high color saturation and resolution

Stable regardless of changes in temperature / humidity
Canada Stone Paper ecoBadge
view more plastic free alternatives >>
Sustainable Swag - Eco conference Blog Series
Sustainable Swag - Eco conference Video Series
view more plastic free alternatives >>