Wheat Straw Promotional Items #SustainableSwag
Plastic Free Wheat Straw Products for Conferences & Events
#SUSTAINABLESWAG #6 wheat straw
Putting on an eco-friendly event is much easier than you think, and with so many promo choices available, delegates can still get the same swag buzz they know and love! 
As part of our #EarthDay eco conscious conference series – we are looking at the top 12 earth friendly materials for promotional items to help you find the right swag for your conference or event. To make the list, items must be made with earth friendly, sustainable, recycled, recyclable or biodegradable materials. 
Eco Friendly does not have to cost the earth so why not make 2021 the year we make can make a difference.
wheat straw : 
100% ORGANIC
Our Top 12 Eco friendly materials for conference items continues with Wheat Straw – a powerhouse in the realm of Bioplastics!
Wheat Straw is an amazing substitute for plastic and feels almost the same as plastic but is absolutely 100% plastic free.
Biodegradeable
Renewable
Microwaveable
Non Toxic
wheat straw : 100% sustainable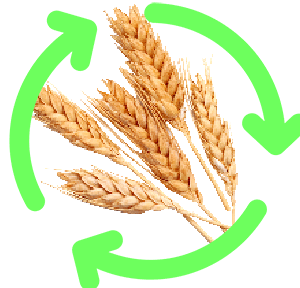 .Wheat Straw plastic is a bioplastic that is again totally sustainable and renewable – plus being natural and non toxic and gluten free, it is perfect for food containers as premium food grade.
Unlike many materials, wheat straw does not go mouldy is freezer safe and you can turn it back again to create different products once you're done with product 1 – awesome!
Wheat Straw plastic is manufactured from a by product of the wheat production process
Is it really wheat? Yes it is – the same thing that you get in your bread and your pasta but can be broken down to make natural polymers which are super strong and totally biodegradable in 5 – 6 months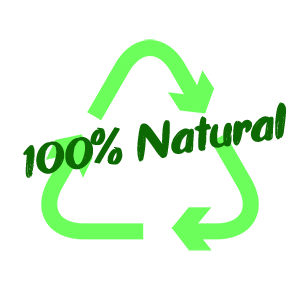 Wheat Straw can be used for all food containers from takeaway bento boxes for delegates to cutlery, plates, mugs, bowls and more. You can even use it in the workplace for the obligatory microwaved bowl of soup in the office!
But because it is a bioplastic, you can make all the things that you would have made out of plastic like straws, tumblers, cups, classy sunglasses, pens and notebooks
You can even go hi tech with wheat straw speakers, chargers and containers
Easily branded with your logo or sponsor information why not call us on 1 800-665-3775  to discuss your sustainable swag needs!
wheat straw PROMOTIONAL PRODUCTS
Here are just some of the promotional products you can choose from. All made with cotton and perfect for corporate gifts, conference swag or every day use in the office.
Brand with your logo or sponsor information why not call us on 1 800-665-3775  to discuss your sustainable swag needs!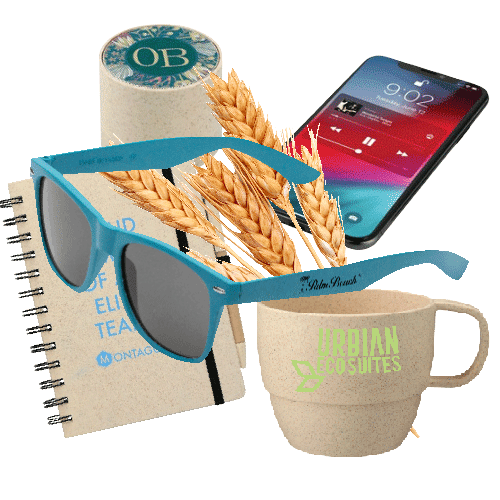 Sunglasses
Straws
Reusable straws
Cups
Bluetooth Speakers
Cutlery
Plates & Bowls
Takeaway Food Containers
Notebooks
See all of our wheat straw merch

view more plastic free alternatives >>
Sustainable Swag - Eco conference Blog Series
Sustainable Swag - Eco conference Video Series